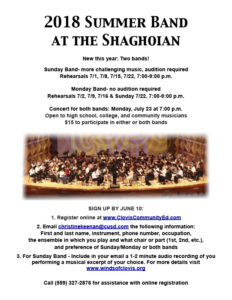 2018 Summer Band at the Shaghoian
New this year: Two bands!
Sunday Band: more challenging music, audition required
Rehearsals 7/1, 7/8, 7/15, 7/22, 7:00-9:00 p.m.
Monday Band: no audition required
Rehearsals 7/2, 7/9, 7/16 & Sunday 7/22, 7:00-9:00 p.m.
Concert for both bands: Monday, July 23 at 7:00 p.m.
Open to high school, college, and community musicians
$15 to participate in either or both bands
SIGN UP BY JUNE 10:
Register online at www.ClovisCommunityEd.com

Email christinekeenan@cusd.com the following information: First and last name, instrument, phone number, occupation, the ensemble in which you play and what chair or part (1st, 2nd, etc.), and preference of Sunday/Monday or both bands 

For Sunday Band – Include in your email a 1-2 minute audio recording of you
performing a musical excerpt of your choice.
For more details visit www.windsofclovis.org
Call (559) 327-2876 for assistance with online registration