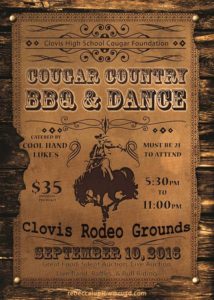 Saturday, September 10, 2016
5:30 pm – 11:00 pm
Clovis Rodeo Grounds
Cougar Country BBQ tickets are now available for all CHS Instrumental Music Members (Band, Orchestra, Color Guard, and Percussion) to sell. 
$35 a person / $15 will be donated to help you w/ the music program
21 and older only (Great night to hang out with other adults)
Catered by Cool Hand Luke's.
Great food, people, drinks, silent/live auctions, raffles, bull riding, & so much more!
Again, tickets are selling for $35.00 of which $15.00 of each ticket will be donated to help you with our program.  All tickets can be picked up in the Yale office from Jennifer Hunt.  The Yale office is located at the end of the "E" Wing and her office is open Monday-Friday from 7:30 am to 4:00 pm.  You can also call Jennifer Hunt at 327-1350 for any additional questions.
All tickets and money will be due by Friday, September 2nd to Jennifer Hunt in the Yale office.
This is definitely a fun event and one not worth missing.  We hope to see you all there!
GO COUGARS!!!